A CROOKED HISTORY
"There was a crooked man, and he walked a crooked mile. He found a crooked sixpence upon a crooked stile. He bought a crooked cat, which caught a crooked mouse, and they all lived together in a little crooked house."
Taken from the traditional English Nursery Rhyme.

My name is Alodie and I first launched The Crooked Style as a business in 2012.
I studied painting and printmaking at Falmouth School of Art and gained a BA in both those subjects. However, while I was at art school, I discovered an interest in singing and songwriting, which was a surprise to me. The music side took over for a few years, and after leaving college, I sang in bands and wrote many of the songs we performed.
I have worked as a pavement artist and scenic painter, assisting my friend and speed painter extraordinaire, Mr Jon Hicks. As an interesting aside, I also worked as a dresser for Rugrats - The Musical, at Wembley Arena. It is where I learnt to be wary of anyone sporting an oversized head. You can probably guess where some of the influences for my work have come from, by looking here...
In 2008 I applied to do an Illustration MA at Camberwell Art College, under the excellent tutelage and warm encouragement and support of Janet Woolley, an inspirational teacher and very successful illustrator and artist.
THE CROOKED STYLE - After gaining my MA, I began to sell my hand drawn illustrations and designs as high quality digital prints and incorporate them, along with hand painted work, onto jewellery, cards, picture frames and boxes. It has all gone amazingly well so far...touch that proverbial wood. It is so rewarding when I meet the people who buy my work.
I chose The Crooked Style for my business name, as it had a nice quirky feel to it, which I felt was fitting for my style of work. I also liked that the name referenced the nursery rhyme, "There was a crooked man", as well as it being a play on words. Both important aspects of what I do.
I have been selling my work at markets and craft fairs, but I also supply a small range of prints, cards and jewellery to a few independant shops, the details of which you will find under "stockists" on my home page. I will be looking to make more one-off pieces and limited edition prints very soon, so do look out for future listings. Some items will only be available through the website and will be unique.
BOOK ILLUSTRATION In early 2016, I had my first book cover published and I also drew the interior illustrations. I was commissioned by a very talented author called Sarah Gray. The book is called Surface Tension and is on sale now through Amazon or Waterstones online, or can be ordered through your local independant bookshop. Here are the details about the author on the publishers website. I have made a limited edition of prints from the book artwork, available for sale here on my website. Surface Tension and accompanying images are available to buy and are limited to 50 per run.
In late 2016, I finished work on Sarah's haunting follow up book, "Half Life " which is now published and ready for sale on Amazon here. I have also made limited edition prints from my artwork for Half Life, which are available through my website.
I would like to do more illustration work and to begin writing again, and so I welcome any commission enquiries. I love quirky and unusual things and want my work to reflect that side while having a bit of fun with it too. So that is why everything I sell is designed by me, even down to logos and packaging. I think it is all important and adds to the product. I really care about the things I make and so I hope you enjoy the work.
INFLUENCES - Many of my ideas and themes are based around folklore, fairy tales, old wives tales and sayings. I also take alot of inspiration from the art of the theatre, fairgrounds and historical costume, especially from the Georgian period up to the 1950's. Some of my favourite Artists, who have also been a massive influence, are Goya, Hogarth, Lotte Reiniger, Edward Gorey, Ronald Searle and Paula Rego. I also want to acknowledge one of my favourite authors when I was growing up... Joan Aiken, who inspired me beyond words.
I really hope you enjoy my work and get alot of pleasure from the items you buy, whether they are for you, a family member, or are a gift for a friend.
Thank you for taking the time to browse through the site and read this blurb.
All the best
Alodie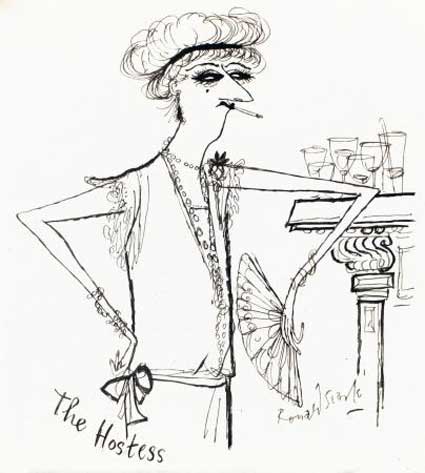 THE HOSTESS BY RONALD SEARLE